How to assign target URLs to keywords
In Rank Tracker
Go toRank Tracker.
Click on, or to the left of a keyword.
Enter or paste URL into the Target URL field and press or Enter.
To make a URL ranked in SERP a target one click on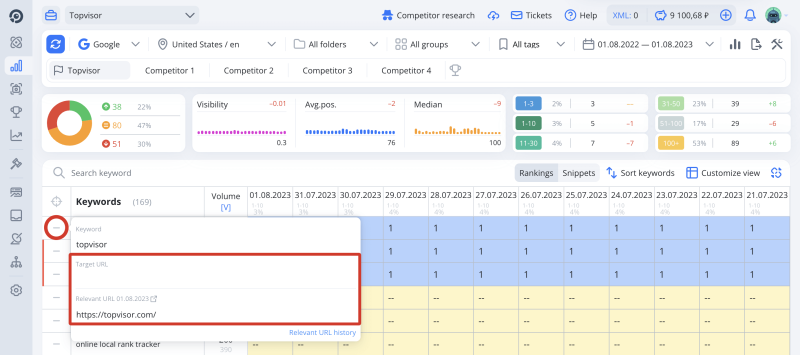 How to assign target URL to all keywords or in a folder/group
Go toRank Tracker.
Select a folder and group on the toolbar. To set up the target URL to all active keywords in the project, select All Folders.
Click
Specify a target URL and clickor Enter.

Make sure you change the target URLs you DO want to change 📤
Changing target URLs cannot be cancelled. When changing target URLs for keywords, make sure you select the correct folder/group. The selected folder and group are shown in the pop‑up window.
In Keywords
In Advanced mode
This giude is for Advanced mode 📌
There are two modes inKeywords: Default mode and Advanced mode. Advanced mode is more powerful: it allows working with hundreds thousands keywords and groups, creating multilevel keywords structure, using advanced filters and regular expressions. To switch to Advanced mode, press in the top left corner in Keywords.
Go toKeywords.
Click to switch to Advanced mode.
Select folder and group or press All keywords, and then tick keywords.
Click on the pop‑up toolbar.
Enter URL and press or Enter.

From a file
Go toKeywords.
Upload a .csv or .txt file with keywords and target URLs.
How to specify keywords and URLs correctly →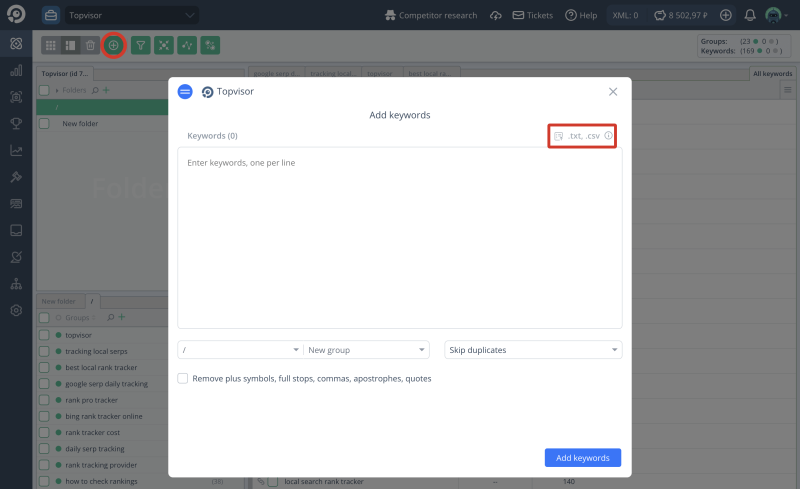 By filter to assign target URLs from ranked ones
Go toKeywords.
Select Assign Target = Ranked from the last rank check.
Select SE and location.
How to delete Target URLs
Open assigning target URLs pop‑up in Rank Tracker or Keywords.
Delete the target URL or leave the target URL field blank.
Click or Enter.