Snippets checker
A snippet is a short description of a web page presented in SERP. Snippets tells users what the page is about so that they decide whether to open the website or not.
A snippet consists of URL, title and description. Title usually equals to the page title tag, and a description is generated by search engine based on the description tag of the page and its content. Snippets help users to decide whether the page would be useful for them, or immediately find the necessary information in the snippet block.
Snippets checker allows to:
see what snippet is displayed in SERP by keyword;
compare snippets by different search engines, locations, devices, as well as snippets of your website and competitors;
find a pattern in websites' ranks and their snippets;
view how many users visited website and what snippet was more clickable.
How to enable snippets checker
Go toRank Tracker.
Clickon the toolbar.
Select Additional settings in the drop‑down list.
Select Collect in Snippets.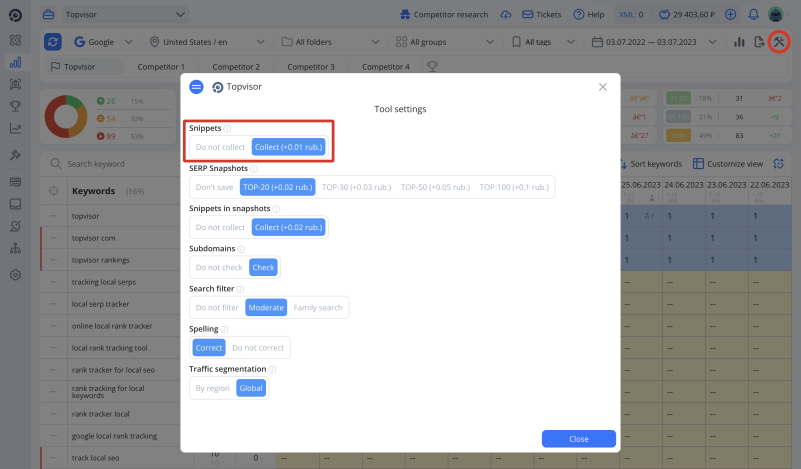 How to view and export snippets
To view snippets by keywords, switch to Snippets mode. If Snippets mode is enabled, snippets will be downloaded automatically. How to export data →

Track snippets of all Top websites using SERP Snapshots 📸
To collect snippets of all Top websites, go to
SERP Snapshots
, turn on snippet collection in Snapshots and switch to
Snippets
in the interface.
Read more about Snapshots →
To view snippets inRank Tracker without switching to Snippet mode, hover over the position and click the snippet popup.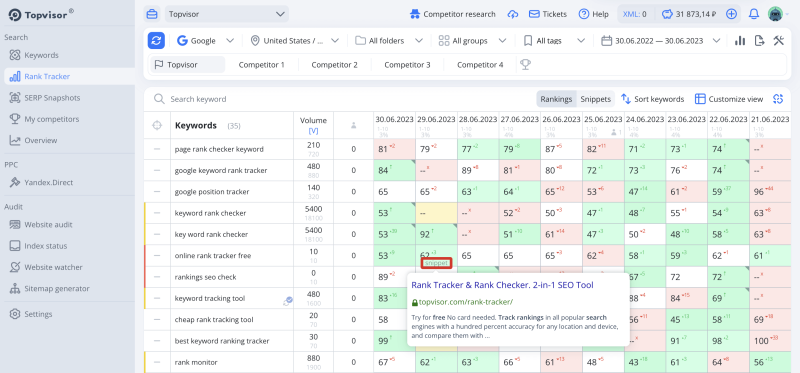 How to collect competitor's snippets
If snippets checker is enabled, snippets will also be collected for active competitors websites. Snippets for competitors are tracked for free.