Additional options and features
Содержание
You can configure in the project:
snippet collection;
snapshots collection (TOP sites from SERP);
subdomains;
filter in SE;
correction of typos;
type of traffic.
How to change project settings
Go toRank Tracker.
Clickon the toolbar.
PressAdditional settings in the drop‑down list.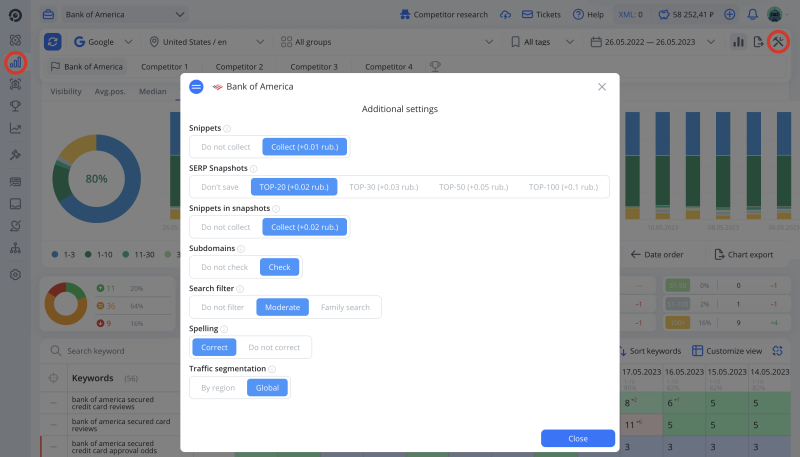 Snippets
Snippet

A short description of a site that is displayed on a search results page. It tells user what is the page about, so he decides whether to open it or not.
Snippet consists of the page URL, title and description. Description is generated by search engine based on description of the page and its content. Snippets are collected for the first 5 competitor sites for free.
How to set up snippet collection →
SERP Snapshots
Snapshots

TOP sites from search results.
Snapshots help you collect TOP pages for an unlimited number of queries, view snippets and relevant pages of all sites from TOP. As well as find your competitors from search results, view their best pages and use them to promote your site.
You can choose a depth of Snapshots tracking, that is the number of sites from the TOP that the robot will collect (from 20 to 100), as well as tracking snippets of sites from the TOP. There is no limit on the number of requests for which Snapshots can be collected.
How to set up snapshot tracking →
Snippets in snapshots
Turn on snippet tracking in snapshots to see snippets of all top sites, and use competitors' headlines and descriptions to build your promotion strategy.
How to collect snippets in snapshots →
Subdomains
If your website has subdomains, turn on subdomain checking when checking rankings. We recommend set up projects for sites with subdomains as follows:
specify main domain as the project URL, for example, website.com;
turn on checking subdomains.
Then, it doesn't matter whether the main domain or a subdomain is ranked in results: the robot will determine a position of the site according to the query in both cases. On a relevant page, you will see exactly what is ranking in the search engine: main domain or a subdomain. Positions of all subdomains can be checked within one project.
If each subdomain has its own queries, for example, containing toponyms ("buy an apartment in New York", "buy an apartment in Los Angeles"), create a separate project for each group of queries. You can specify the main domain in all projects and check subdomains, or specify subdomains as URL of the projects at once.
Search filter
Search engines have different filters that allow you to regulate the presence of unwanted content in search results. Unwanted content usually refers to "adult" resources, websites containing profanity, and images of violence and cruelty. Read more about filters in Yandex and Google.
The option applies to all search engines in the project if the search engine itself has such a filter. If there is no such filter in search settings, the option will not be applied when checking rankings.
Spelling
The search engine automatically corrects typographical errors in queries and shows results for queries without typographical errors. For example, the query "millk" will be corrected to "milk". To see the search results for the original query, the user has to click Cancel in Yandex or click on the original query in Google. Usually users don't do this, so we don't recommend disabling the typo fix.
Traffic segmentation
Чтобы в проекте отображался трафик, интегрируйте Яндекс.Метрику и Google Analytics в Настройках проекта. По умолчанию Трафик сегментируется по регионам. То есть если вы проверяете позиции в регионе Москва, вы увидите трафик только из региона Москва. Чтобы видеть трафик из всех регионов, независимо от того, в каком регионе проверяются позиции, выберите Общий трафик.
Сначала интегрируйте кабинеты веб‑мастеров, а затем проверьте позиции проекта 📌
Если сначала проверить позиции, а затем сделать интеграцию, информация о трафике не подгрузится, даже если повторно проверить позиции.
Как интегрировать сервисы поисковой аналитики →
Я интегрировал Яндекс и Google, проверил позиции, но трафик все равно не отображается. В чем проблема?

Трафик подгружается за предыдущую проверку, поэтому, если в проекте одна проверка, трафик не будет отображаться. Но вы увидите его после следующей проверки. Алгоритм работает именно так, чтобы трафик собрался за полные сутки, ведь вы можете проверить позиции утром, а основная часть трафика может прийтись на вечер.

Если в проекте несколько проверок, а трафик все равно не отображается, значит, по запросам из проекта не было переходов в даты проверок. Проверить получение трафика можно

по этой инструкции

.