Accurate rank tracking in search engines
Spot-on rank
tracking
in
Yandex
in
Google
of an app in
App Store
Google Play
Track rankings in all popular search engines with a hundred percent accuracy for any location and device, and compare them with your competitors'
8 search engines
8
search engines
Topvisor shows clockwork rankings of websites, sections, or URLs in Google, Yandex and Yandex.com, Bing, Yahoo!, Seznam, and also tracks rankings of Youtube videos or channels and apps in App Store and Google Play. You can even check ranks of VK groups or articles — do whatever you need.
Launch checks with any locations and languages
Topvisor supports all locations, domains and languages available in search engines. Track websites' ranks in New York or across the whole US, even if you're in Murmansk. You can check SERP in any language, from English and Italian to Thai and Hebrew.
All about Rank Tracking in Topvisor
Track results in desktop and mobile SERP
Check rankings in desktop and mobile search results. Compare positions in different search engines, locations and devices on the same screen.
Find competitors or add them by hand
Add competitors and compare their rankings with your own. You can track positions of 5 competitors for free! Don't know who are your competitors? Find them in Topvisor and add to the project.
Find competitors and collect SERP Top
Run checks on schedule
Schedule checks and reports: Topvisor will track rankings on time and send a detailed report by e-mail. You don't need to log in to get the latest data timely.
Saved
Rankings history is accessible forever even with a zero balance
Topvisor never deletes projects or restricts access to them if your pricing plan expires or you run out of funds. Your projects are only yours.
No limits at all
We don't limit the number of projects, keywords or checks you may have on any pricing plan. Check as much as you need, and we'll for our part make sure Topvisor runs fast, no matter how much data is displayed.
Play as a team
Share a project with your teammates using guest access. Set up access level: it's up to you whether they can launch rank tracking and edit keywords or just view data.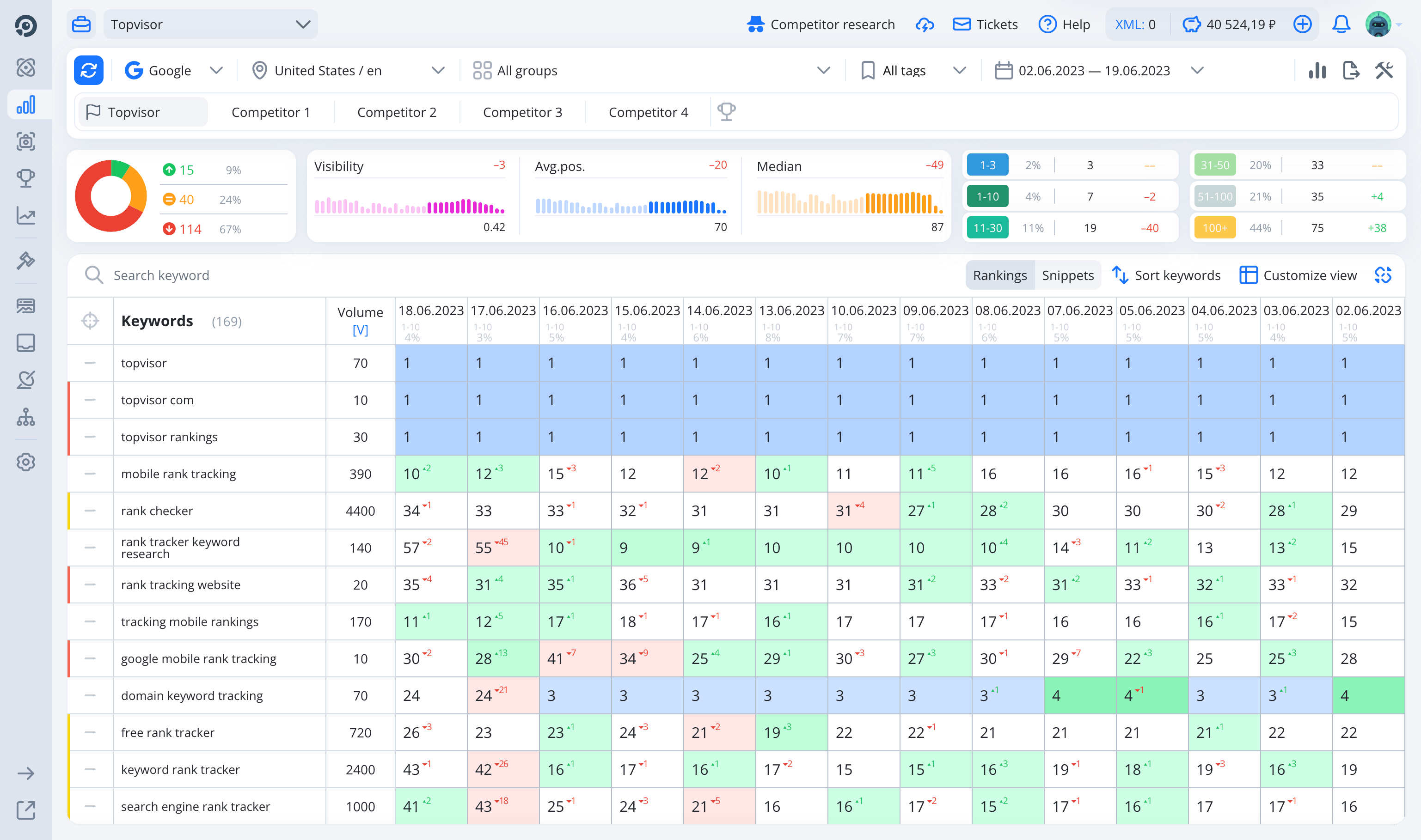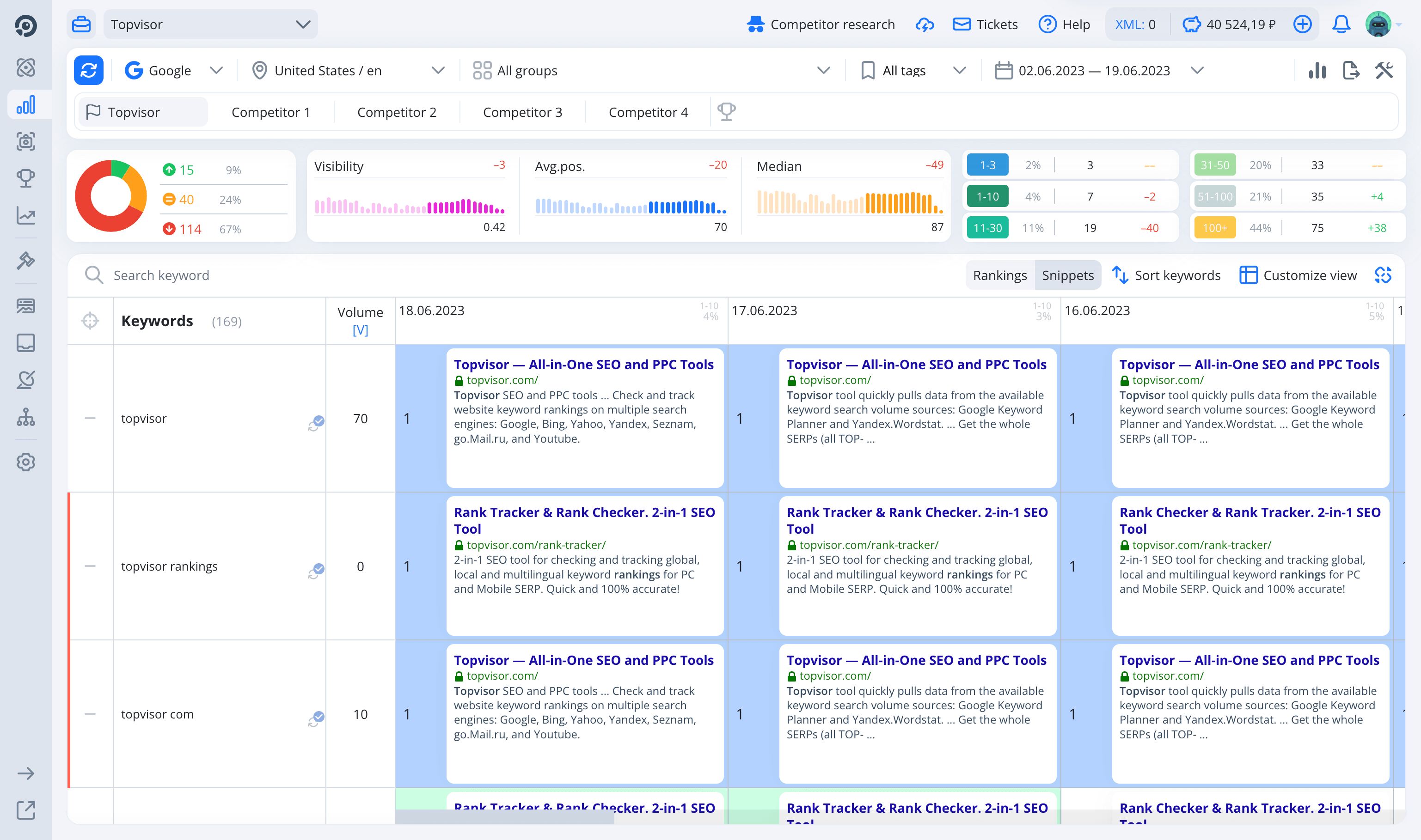 Collect snippets to see how website is ranked in search
Collect snippets for all keywords so that you can sum how the URL is presented in SERP and compare competitors' snippets with yours in search engines, locations and devices.
Tracking of Featured Snippets, AMP and Turbo pages built-in You'll see if a website's got Featured Snippets or has AMP or Turbo pages. Learn all about yours and your competitors' rankings.
Share reports with clients in one click
Use guest links so that your clients don't have to sign up in Topvisor. What is shown via the link is up to you. Clients'll see only what you want them to see.
Analyzing millions of keywords never been easier
Analyzing data with Summary is a piece of cake. See in a wink how a website's risen or fallen in SERP along with its Visibility, Average and Median positions trend, keywords distribution by Tops and other metrics.
API
API
API for all tools. For free. On all pricing plans.
Pull data from Topvisor wherever you need with simple API. Available on all pricing plans! Try out how it works in API Explorer.
API documentation
The whole nine yards
Connect Yandex.Metrica and Google Analytics to get traffic data, and Yandex.Webmaster to see indexing and backlinks. Upload keywords that brought users to your website according to them and Google Search Console for free.
Always at your fingertips
Topvisor mobile app tracks rankings alongside web version. Launch tracking, view data and top up wherever you are.
A penny saved is a penny earned
Give your Yandex.XML limits to Topvisor and track ranks for free in any search engine.
Using another rank tracker?
Switching to Topvisor is child's play. We'll transfer your projects from another service for free and import rank tracking history. The first check – on our dime.
Import projects