Website Watcher | Track changes and extract meta tags — Topvisor.com
Track website changes automatically
Track your site's ups and downs to stay on Top, and monitor your competitors: their prices, meta tags, product listings, and much more
Track your website's status
Topvisor automatically collects pages' HTTP status code, Title, Description, H1, and all other content. If the site bounces from Top or the page Title changes, you'll get an alert so that you can fix it up. You can even track robots.txt — just add a link to robots to the list of URLs for monitoring.
All about content tracking in Topvisor Watcher
React to changes in a jiffy
You can schedule changes tracking at intervals from once a month to 4 times in an hour. If something happens to the website: it goes down, faces problems with server or hosting — you'll know about it in a twinkle. You can receive alerts in Telegram, by email, or in a push notification in Topvisor.
Full changes history at your fingertips
Website Watcher captures the old and the new meta tag value and highlights what's changed. If you need to roll back to the old values, just grab them from the report. See the value history of each parameter.
Track only the content you want to
You can track not all the page content, but only the content that interests you, for example, canonical, goods features, discount size, and so on. You can set up tracking using regular expressions, and on your site — also with special tags.
Keep an eye on your competitors
You can oversee not only your own website, but also competitors' sites: collect their meta tags, prices, product names and much more. Analyze the market and be up with trends.
Check new pages automatically
Schedule auto-updating of the URLs list and Website Watcher checks. Then, Topvisor crawler will automatically check sitemap.xml and add new pages for monitoring.
No limits on URLs to check and download data
In Topvisor, there are no limits on how many URLs you can upload for monitoring and how much data you can export. Track changes for any website, even if it has thousands of pages, or check only the URLs and categories you need. The entire report is at your disposal: download information about all checked URLs to a file, or share report via link. Choose how often Topvisor crawler can access the website, so that it doesn't drop under the load.
You own the website — we own the power
There's no need to install Topvisor on your PC and waste its power. Leave monitoring to us, and we'll collect info about all pages and store each report in the cloud. Reports are available online from any device regardless of balance.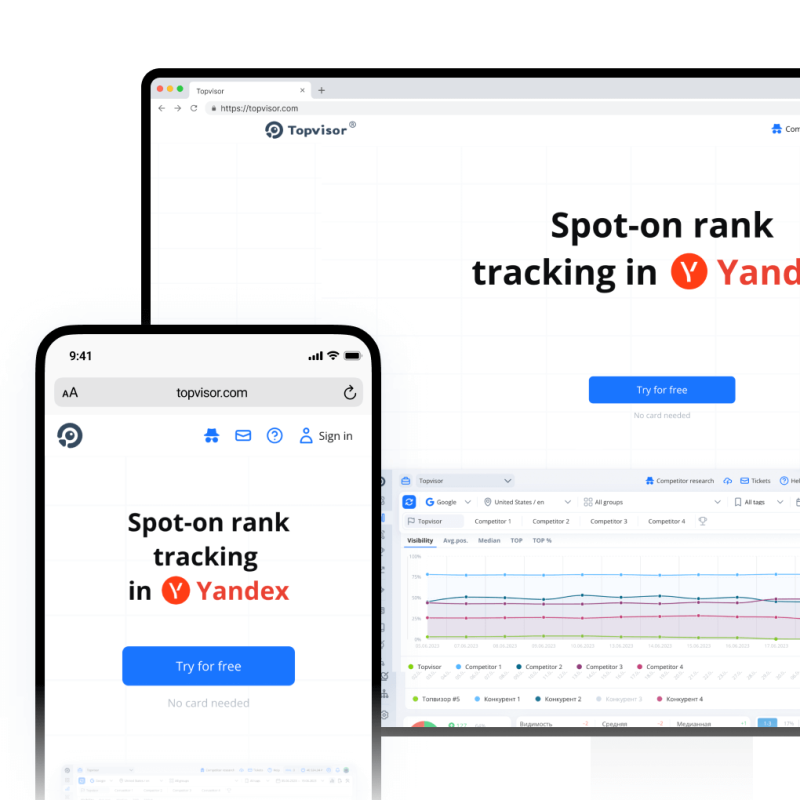 Be mobile-friendly
Mobile is the new black. Analyze how the website behaves not only on PC, but also on mobile devices or any other User Agent. Select User Agent from the available ones (PC, mobile, YandexBot, GoogleBot) or specify your own in Tool Settings.
API
API
API for all tools. For free. On all pricing plans.
Pull data from Topvisor wherever you need with simple API. Available on all pricing plans! Try out how it works in API Explorer.
API documentation
Play as a team
Share a project with your teammates using guest access. Set up access level: it's up to you whether they can launch rank tracking and edit keywords or just view data.
Find all the errors that prevent your website from hitting SERP Top with Website SEO Audit tool
The site is constantly crashing, has a lot of 404 pages? Take a tip — perform a full website SEO audit in one click. Website SEO Audit tool will show all the errors on the site and report each URL. Work out technical issues of the site, and all you'll need is keeping it running smoothly.
Perform a detailed SEO audit
Run checks on schedule
Schedule checks and reports: Topvisor will track changes on time and send a detailed report by e-mail, via Telegram or in push notification. You don't need to log in to get the latest data timely.
Share reports with clients in one click
Use guest links so that your clients don't have to sign up in Topvisor.