Additional settings and features
In the project you can:
collect snippets;
collect snapshots (Top sites from SERP);
enable subdomains;
change search filter;
correct typos or not;
change the type of traffic.
How to change project settings
Go toRank Tracker.
Clickon the toolbar.
PressAdditional settings in the drop‑down list.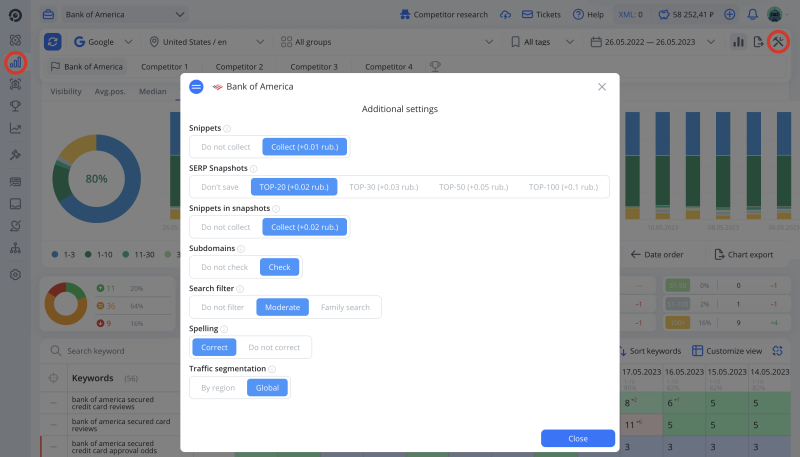 Snippets
Snippet

A short description of a site that is displayed on a search results page. It tells a user what the page is about, so he decides whether to open it or not.
Snippet consists of the page URL, title and description. Description is generated by a search engine based on description of the page and its content. Snippets are collected for the first 5 competitor sites for free.
SERP Snapshots
Snapshot

Top sites from SERP.
Snapshots help you to collect Top pages for an unlimited number of keywords, view snippets and relevant URLs of all sites from Top. As well as find your competitors from search results, view their best pages and use them to build the SEO‑strategy for your site.
You can choose the depth of Snapshots tracking (the number of sites from the Top that will be collected, from 20 to 100), as well as view snippets of all sites from the Top. The number of keywords, for which you can collect Snapshots, is unlimited.
Snippets in snapshots
Turn on snippet tracking in Snapshots to see snippets of all Top sites, and use competitors' best practices of titles and descriptions to build the SEO-strategy of your site.
How to collect snippets in Snapshots →
Subdomains
If your website has subdomains, turn on subdomain checking when checking rankings. We recommend to set up projects for sites with subdomains as follows:
add the main domain as the project URL, for example, website.com;
turn on checking subdomains.
Then it wouldn't matter whether the main domain or a subdomain is ranked in SERP: Topvisor would show the rank of the site in both cases. You would see whether the main domain of a subdomain is ranked in SERP by the relevant URL. Rankings of all subdomains can be checked within one project.
If each subdomain has its own keywords, for example, containing toponyms ("buy apartment in new york", "buy apartment in los angeles"), create a separate project for each group of keywords. You can specify the main domain in all projects and check subdomains, or specify subdomains as URL of the projects when creating them.
Search filter
Search engines have filters that allow you to regulate the presence of explicit content in search results. Explicit content usually refers to "adult" resources, websites containing profanity, and images of violence and gore. Read more about filters in Yandex and Google.
The option is applied to all search engines in the project, if the SE itself has such filter. If there is no such filter in the search settings, the option will not be applied when checking rankings.
Spelling
Search engines automatically correct typos in keywords and show results for keywords without such errors. For example, the keyword "millk" will be corrected to "milk". To see search results for the original keyword, user has to click Cancel in Yandex or click on the original keyword in Google. Typically, users don't do this, so we don't recommend to disable the typo correction.
Traffic segmentation
To display traffic in the project, integrate Yandex.Metrics and Google Analytics in project settings. By default, traffic is segmented by location. It means that if you check ranks in the Detroit location, you will only see traffic from Detroit. To see traffic from all locations, regardless of the region in which positions are checked, select Global traffic.
First, integrate webmaster accounts, and then check project ranks 📌
If you first check rankings and then do integration, traffic information will not be loaded, even if you check rankings again.
How to integrate search analytics services →
I integrated Yandex and Google, checked ranks, but traffic is still not displayed. What is the problem?

Traffic is loaded for the previous check, so if a project has one check, traffic will not be displayed. But you will see it after the next check. The algorithm works this way to collect traffic for the full day. You can check rankings in the morning, but the main part of the traffic can come in the evening.

If there are several checks in a project, but traffic is still not displayed, it means that there were no hits in the project on the dates of checks. You can check how traffic was received

according to this manual

.